Site last amended 21 December 2013
A Great post Christmas present...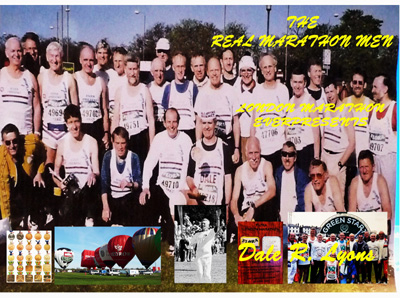 THE REAL MARATHON MEN - LONDON MARATHON EVERPRESENTS
This is the story of 42 marathon runners who were created as the 'Everpresents' by the London Marathon in 1995 after they run 15 consecutive Londons.. Now, 33 years later only 15 remain.
Their story is a testimony to a 'never say die' spirit that has sustained them during the thousands of marathons they have run all over the world.
Dale Lyons, one of the last 15, has combined a detailed factual record from his research with many heart warming anecdotes and incredible hardship stories in tracking the Everpresents' journey since 1981.
Their triumphs and cruel disappointments, the amazing sums they have raised for countless charities, their incredible running records at home and abroad and their fascinating and colourful lives away from the marathon treadmill makes for absorbing and enlightening reading.
This is a book to honour their commitment to the London, one of the greatest city Marathons and provides a lasting tribute to a rapidly diminishing group ravaged by injury, accident, illness and death.
The book will provide inspiration and motivation not only to marathon runners but to those watching the London each year thinking "that could be me!"
Publishing end of January 2014 price £6.99 + £2.60 pp. Orders to Dale Lyons dale@5rhg.co.uk
---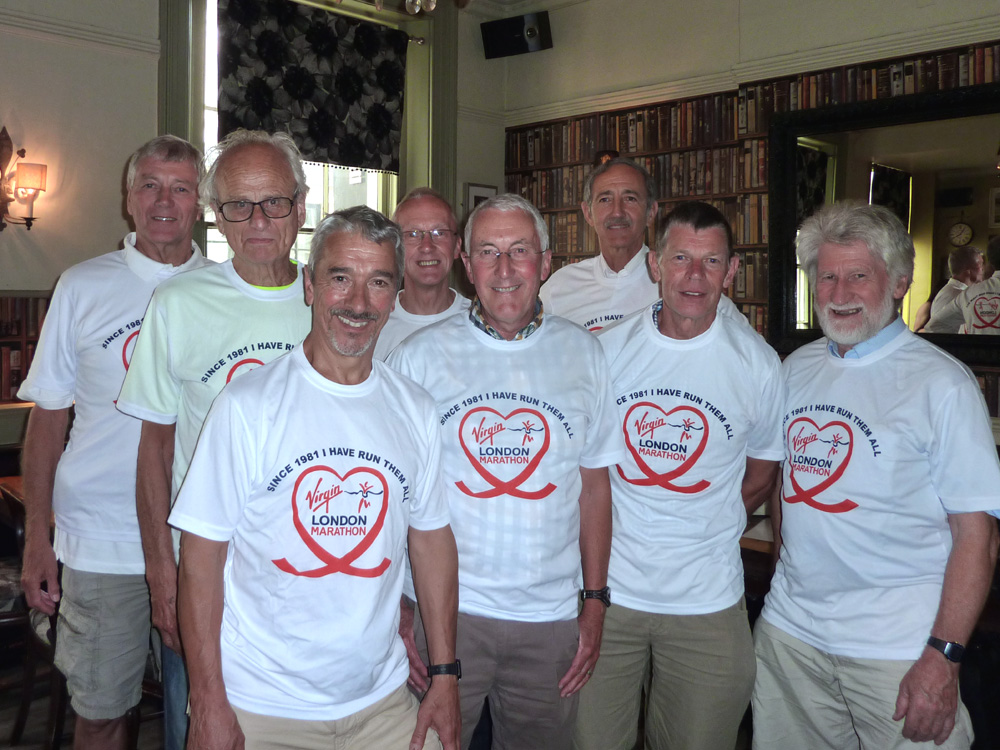 Eight of us got together for a spot of lunch, a few beers and to show off our new T-shirts, 23 August 2013 at the Marquis Pub
---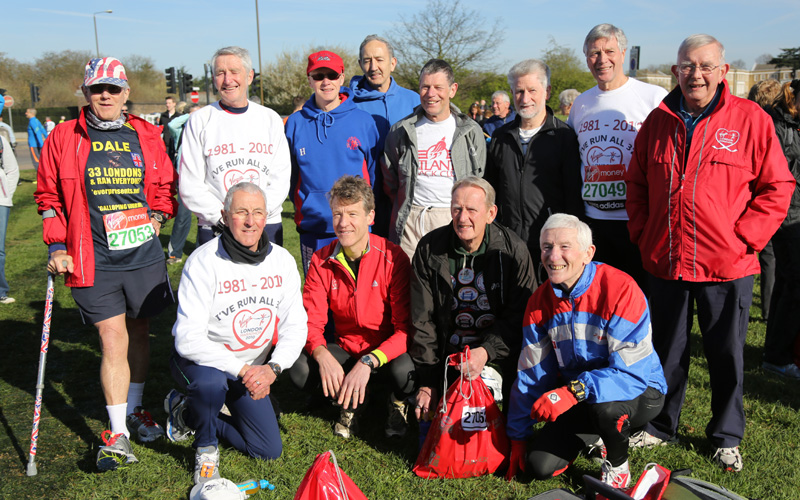 Twelve made the photo call on the Green Start for the 33rd London on 21 April 2013 more photos here...
Dale Lyons, David Fereday,Steve Wehrle, Roger Low, Jeff Aston, Bill O'Connor, Mike Peel, Mike Wilkinson
David Walker, Chris Finill, Charles Cousens, Pat Dobbs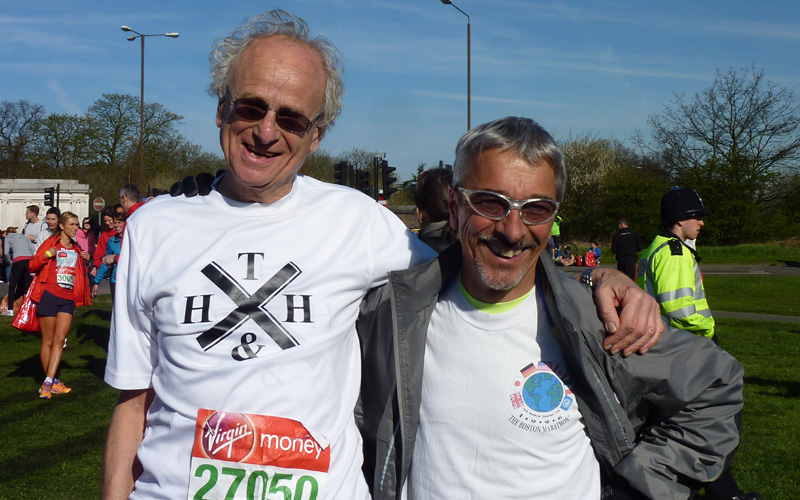 Jeffrey Gordon and Mike Peace missed the photo call...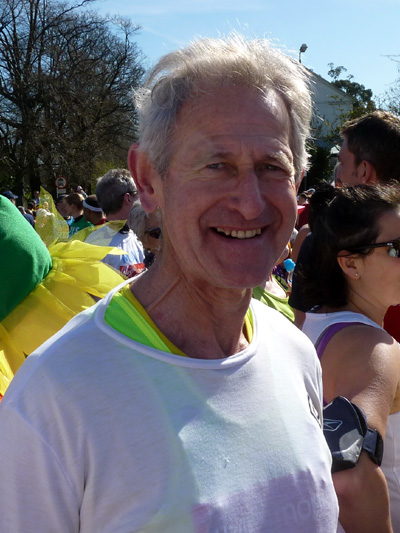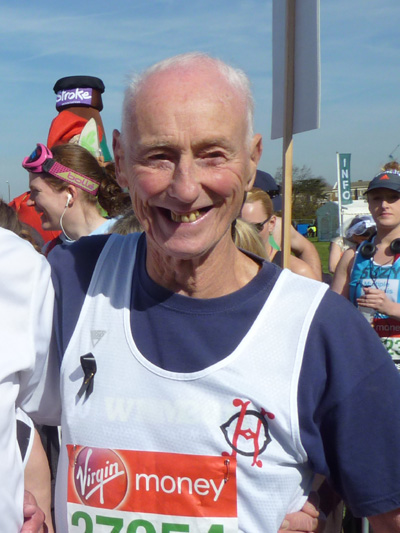 As did Malc Speake and Ken Jones...
Read all about Chris Finill on the London Marathon website 16-04-13
Our thoughts and prayers are with everyone affected by the terrible events in Boston yesterday.
Several of us ran the Centenary event in 1996 and we have fond memories of the whole experience. 16-04-13
---
2013 Performances for each EP updated and Graphs updated
Place overall
Place gender
Place category
Name
Club
Runner no
Category
HALF
Finish time
1140
1100
36
FINILL, CHRIS T (GBR)
HARROW A...
27056
50-54
01:28:04
02:58:35
5329
4544
47
PEACE, MICHAEL S (GBR)
RANELAGH...
27055
60-64
01:36:43
03:34:01
19669
14448
113
LOW, ROGER L (GBR)
HIGHGATE...
27042
65-69
02:09:42
04:38:19
20056
14706
116
ASTON, JEFFREY R (GBR)
LES CROU...
27041
65-69
01:56:27
04:39:58
20376
14900
38
DOBBS, PATRICK A (GBR)
THURROCK...
27043
70+
02:11:47
04:41:27
20384
14905
118
WEHRLE, STEPHEN R (GBR)
DULWICH ...
27051
65-69
02:12:52
04:41:29
22344
16073
51
COUSENS, CHARLES L

(GBR)

27052
70+
02:07:00
04:50:15
29105
19776
191
O'CONNOR, WILLIAM J (GBR)
QUEENS P...
27046
65-69
02:25:14
05:32:48
29659
20060
88
FEREDAY, DAVID H (GBR)
BARNET &...
27047
70+
02:43:57
05:37:52
30359
20402
407
MACEY, TERENCE J (GBR)
27044
60-64
02:14:50
05:45:02
31265
20831
103
JONES, KENNETH I (GBR)
ORION HA...
27054
70+
02:35:11
05:55:52
32979
21526
222
WALKER, DAVID F (GBR)
CHILTERN...
27048
65-69
02:58:39
06:30:24
33145
21598
115
LYONS, DALE (GBR)
SPHINX A...
27053
70+
03:07:30
06:36:15
33487
21739
120
GORDON, JEFFREY (GBR)
THAMES H...
27050
70+
03:13:08
06:53:02

33868

21857

128

SPEAKE, MALCOLM D (GBR)
BILDESTO...
27045
70+
03:19:25
07:10:20
We started off with 42 in 1995 - after the 2013 edition we are now down to 15 - Mike Peel was a DNF
---
Who on earth are these people?... what is this Web site about?

They are a body of men whose common denominator is the London Marathon. Back in 1981 they all took part in the inaugural race of what is now the leading Marathon in the world. In most cases, but definitely not all, they have less hair, less teeth, less ability - however, their driving force, dedication and perseverance is still there. One thing is for certain they are all thirty-three years older and some might even say thirty-three years wiser!

Yes, these 42 runners belong to that worthy group called the "Ever Present". After the fifteenth London Marathon (1995) the group was acknowledged "by the powers that be" and they were awarded with a special commemorative medal, sweatshirt and a guaranteed acceptance for future London's. The original 42 have now been whittled down to 15.

The 15 have completed all thirty-three London Marathons - some times quicker and sometimes slower. They are all club runners and all except one have PB's inside 3 hours, in some cases well inside! They cover the whole spectrum of today's athletics; they come from all walks of life, different locations and assorted occupations (?) most are now retired!!
| | |
| --- | --- |
| Next year's event, on 13 April 2014, will be the 34th and, will again, be sponsored by VirginMoney | |
Please browse the rest of this site to learn more of this unique group of people.
---
Jeffrey Gordon carried the Olympic Torch on Monday 23 July, the same day as Mike Peel.
Bill O'connor was also carrying, his stint was Wednesday 25 July. 2-07-12
Ken Jones carried in Ireland on 6 June 2012 10-06-12
---
| | |
| --- | --- |
| | Chris Finill has now been presented with his Guinness World Record Certificate... 14-02-11 |
---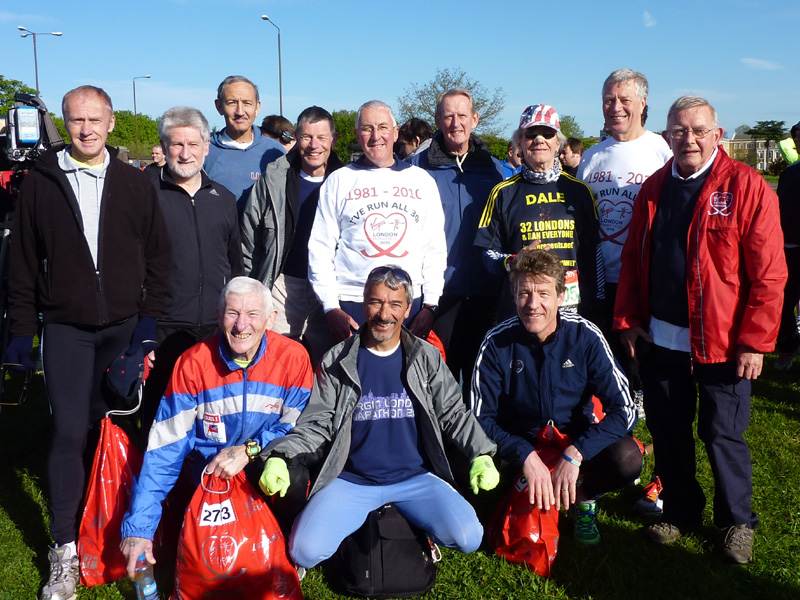 Twelve made the photo call on the Green Start for the 32nd London on 22 April 2012 more photos here...
Steve Wehrle, Bill O'Connor, Roger Low, Jeff Aston, David Walker, Charles Cousens, Dale Lyons, Mike Peel, Mike Wilkinson
Pat Dobbs, Mike Peace, Chris Finill
Four registered on Thursday and were interviewed by Vicki Barker, a radio reporter for npr & CBS News in the US of A.
The result of which were broadcast in the States on Sunday morning... 22-04-12
---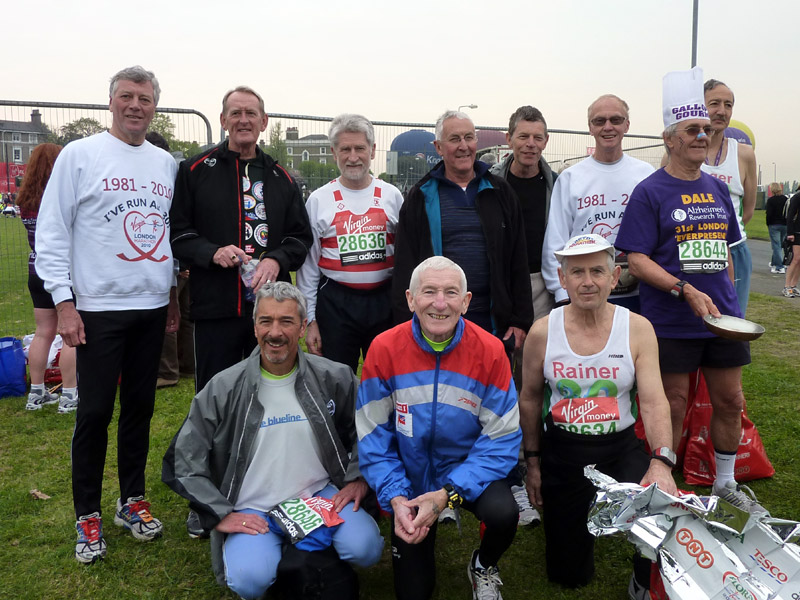 31st London 17 April 2011 - Eleven made the photo call, others came late... More photos here...
Mike Peel, Charles Cousens, Bill O'Connor, David Walker, Jeff Aston, Steve Wehrle, Dale Lyons, Roger Low
Mike Peace, Pat Dobbs, Rainer Burchett
---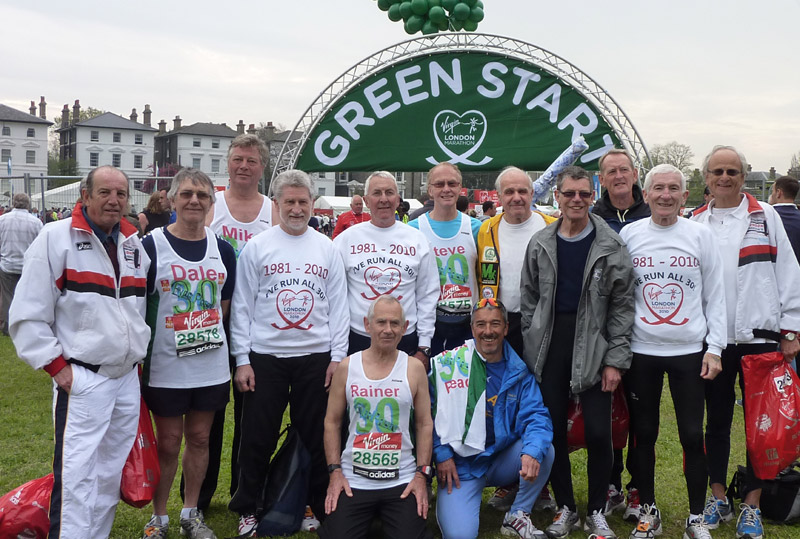 Fourteen made it to the Green Start Photo Call on 25 April 2010 - more photos here...
Tony Tillbrooke, Dale Lyons, Mike Peel, Bill O'Connor, David Walker, Rainer Burchett, Steve Wehrle,
Mike Peace, David Clark, Jeff Aston, Charles Cousens, Pat Dobbs, Jeff Gordon
---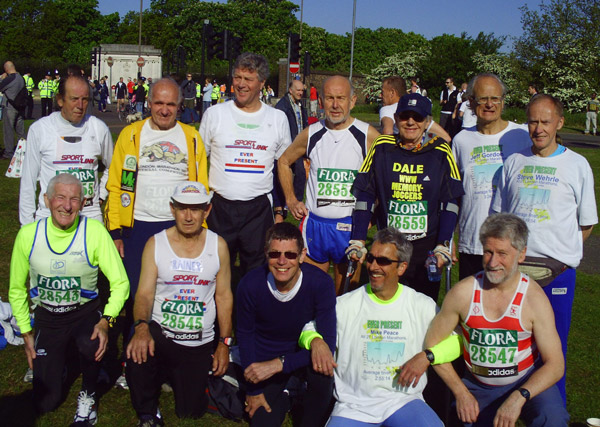 26 April 2009 - Only 12 this time - but found more inside the Green Start - more photos here...
Tony Tillbrooke, Dave Clark, Mike Peel, John Hanscomb, Dale Lyons, Jeffrey Gordon, Steve Wehrle
Pat Dobbs, Rainer Burchett, Jeff Aston, Mike Peace, Bill O'Connor
---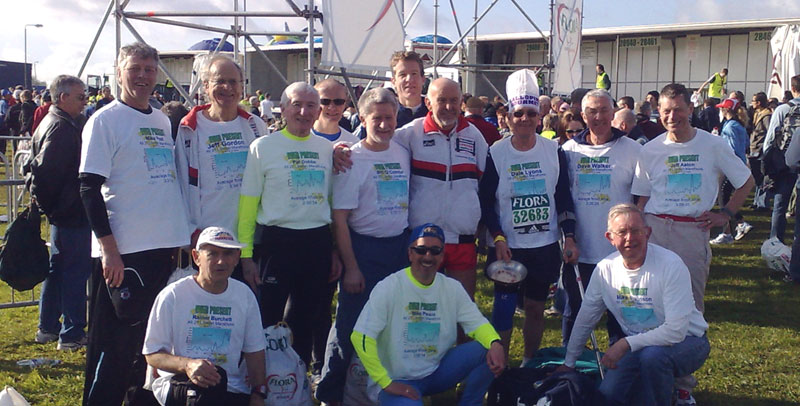 13 (again!) made the photo call on 13 April 2008 - sporting our fancy new t-shirts...
Mike Peel, Jeffrey Gordon, Pat Dobbs, Steve Wehrle, Bill O'Connor, Chris Finill, John Hanscomb, Dale Lyons, Dave Walker, Jeff Aston
Rainer Burchett, Mike Peace, Mike Wilkinson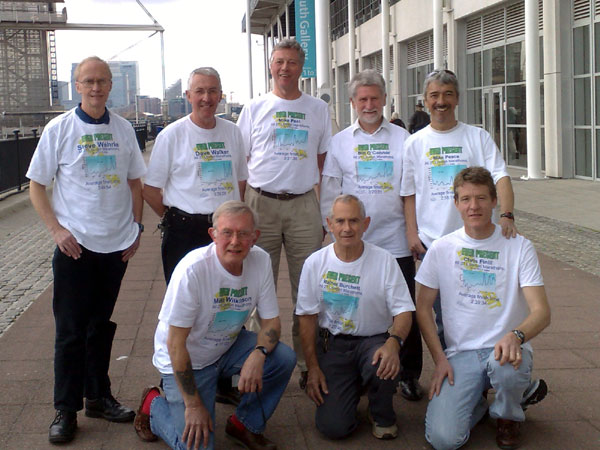 2008 - Eight of us met up at registration on Thursday afternoon - all sporting our new T-shirts kindly made and donated by Julian Gordon 10-04-08
Unfortunately, Mike Wilkinson has called it a day and will not be starting on 13 April - so we are now down to 23
---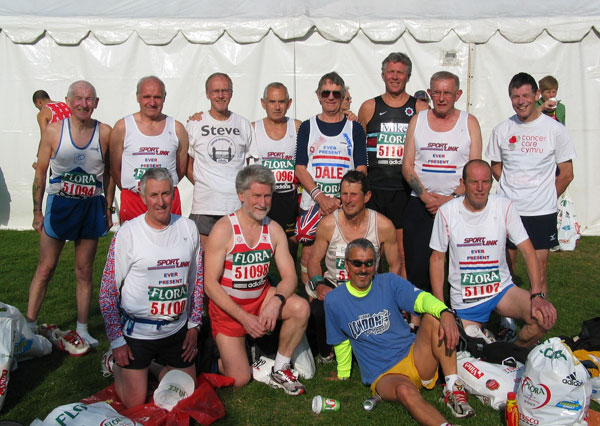 2007 - managed to get 13 this year...
---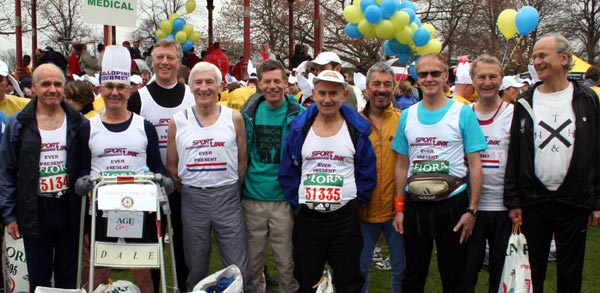 Ten men & true - about to start their 26th London 23 April 2006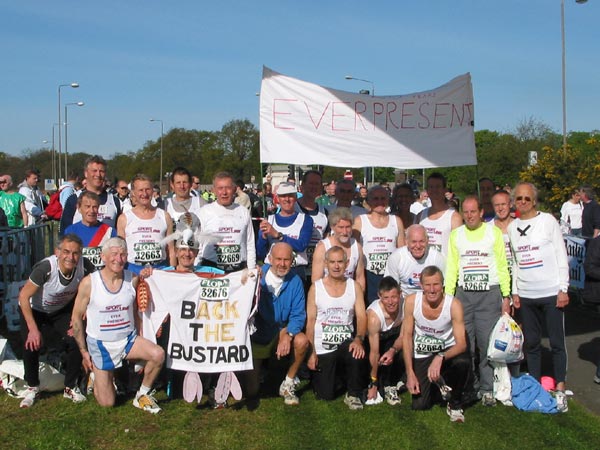 In 2005 we were all on the Green start to celebrate the 25th London Marathon
| | | |
| --- | --- | --- |
| | Both sent in by Dale Lyons. | After the 21st the organizers presented each Ever Present with a plaque to commemorate the fact. |
Sadly John Legge, Orion Harriers, died on Sunday 18 February 2001.
Chris Adams, also Orion Harriers, died in October 2002
Max Jones, Birchfield Harriers, died 14 March 2010